La cueva de Salamanca (The Cave of Salamanca) by Miguel de Cervantes
La cueva de Salamanca (The Cave of Salamanca) by Miguel de Cervantes Premieres on June, 2023
with subtitles in English
After the premiere, the play will be available to watch on-demand.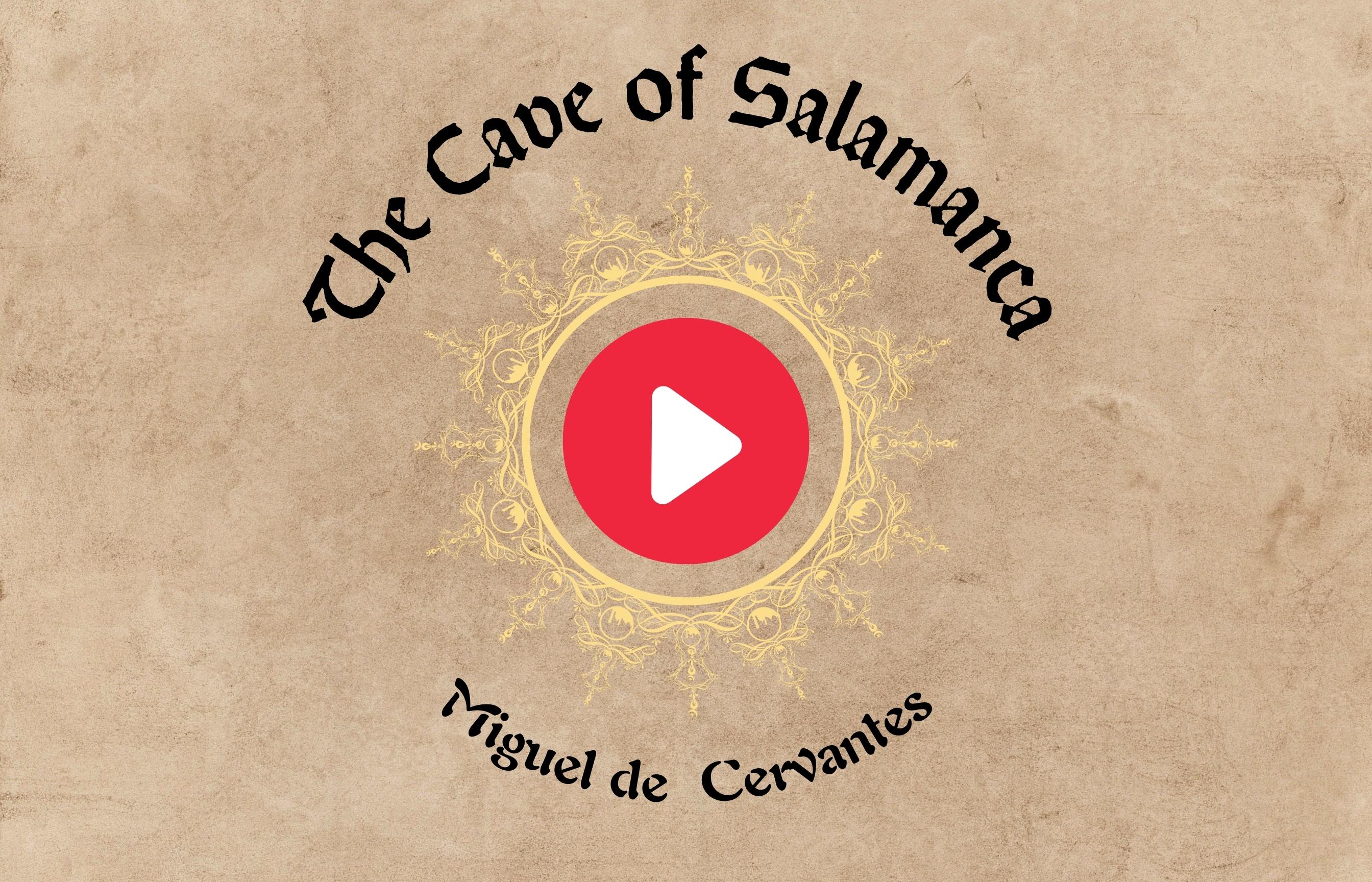 We mounted this play and its filming in the May Term of 2023, in a joint venture of courses SPA260 and COM243, with Dr. Alejandra Rodríguez Villar and Professor Elizabeth Allensworth Winters as dramatic and filming directors respectively. We had the best of times bringing Cervantes back to life again, and we hope you will enjoy it as much as we did.
¡Arriba el telón!
MOVIE
Miguel de Cervantes Saavedra (1547-1616) is recognized worldwide as the author of the first Western modern novel, Don Quixote de la Mancha, which has heavily influenced literature around the globe ever since. He is also known as a master of humor, and he proves it repeatedly in each of his works. Although less known than his prose, his theater is equally delicious and brilliant. His eight entremeses, short comic pieces meant to be performed in the intermissions of the main play in the Spanish Baroque Theater Shows, are true gems of the genre. La cueva de Salamanca (The cave of Salamanca) is one of his most performed entremeses, and for a good reason. If all Cervantes' work strongly resonates in our time, La cueva de Salamanca becomes incredibly alive in each of its lines, in these times of fake news, polarization, and appallingly contradicting visions about the same facts.
The cave of Salamanca (Spain) is steeped in myth, mystery and dark magic. According to the legend, the Cave of Salamanca was discovered in the 13th century by a group of wandering shepherds. They stumbled upon an entrance hidden within the rugged cliffs on the outskirts of the city. Curiosity led them inside, and what they found amazed and terrified them.
The cave was a dimly lit chamber with an eerie atmosphere. It was said to be inhabited by a mysterious figure known as Asmodeus, a prince among demons. This devilish tutor would teach seven students all the mysteries of the dark powers during seven years. However, at the end of the seven years, one student, chosen by draw, had to stay there forever with the devil to pay the debt.
The legend surrounding the Cave of Salamanca also involves the real historical figure, the Marquis of Villena, Enrique de Aragón, a 15th-century Spanish noble known for his works on medicine, astronomy, poetry, and theology, as well as various translations into different languages. The tale goes that after spending seven years at the Cave of Salamanca, he was chosen to stay with the devil but instead chose to run away, breaking his part of the deal. During his escape, his shadow became trapped in the cave, leaving him without a shadow for the rest of his life, a constant reminder of his dealings with the devil.
Cervantes takes this rich legend and turns it into a brilliant fable about how we all believe that we want to believe. Everything that confirms our previous assumptions will be accepted no matter how absurd it is at face value. But the immortal author of El Quixote does this with his unparallel sense of humor, taking to the summit the nooks and crannies of the genre of entremés. And not only that: in a moment, the Early Modern Spain, in which truth and reality were as contested as they are nowadays, Cervantes displays in The Cave of Salamanca an Early Modern version of Schrödinger's cat. The playwright proves that something can be hidden by showing it, or as Pirandello would say long after, "that is the way it is, if you think so" (Così è se vi pare).
Once more it has been an incredibly pleasure to direct a play written by Cervantes. The possible readings are endless, and the opportunities for the performance have their sole limit in our imagination. 
The Directors
---

Dr. Alejandra Juno Rodríguez-Villar comes from the world of theater, particularly Golden Age Spanish Theater in Spain. Her love for these wonderful texts is so passionate, that she decided to pursue a Ph.D. to further learn about them. Now, at Hanover College, as an assistant professor of Spanish in the Modern Languages Department, she divides her time applying the cognitive sciences to research these plays and directing them, both things extremely fun and rewarding. 
 

Professor Elizabeth Winters is General Manager of the HCTV and a member of the Hanover Communication Department in charge of video production and broadcast journalism courses. 

Prior to coming to Hanover College, she worked for eight years as a documentary producer for Florida Public Television and then as senior producer of the Florida Crossroads documentary series and news director at the Florida Channel.  Her awards include The Florida Bar Awards Grand Prize for Television for "Alarmed and Dangerous," a Wolfson Media Center Film and Video Awards Honorable mention for "The Changing Face of AIDS" and a Sunshine State Video 2nd Place Award for "Below the Surface."  Her award-winning freelance productions include a campaign video for Jennings County United Way and exercise videos for HealthMPowers.  Recently, she has produced a variety of magazine, news and documentary programs for the college cable channel and regional broadcast and cable stations, including In the Footsteps of Newton, which was screened at the Utopia Film Festival and Mathfest,  For Our Country: The Story of the Jefferson Proving Ground and Faith in Friendship, a documentary about the Ulster Project peace and reconciliation program in Northern Ireland.  

contact:  winters@hanover.edu
---
What our students say about this experience
Over the last 6 months I have had the pleasure of learning about Cervantes and how he changed literature forever with works such as Don Quixote, as well as learning about some of his unique entremeses. These are short works that were performed in between plays in Spain during the 16th century. One of these famous works was La Cueva de Salamanca. I had the opportunity to be obtain an in-depth understanding of this play and eventually create our own version of it on film. I have had zero experience acting and this was quite the change from what I am used to, but I knew with the assistance and support of Professor Alejandra Rodriguez Villar that we could accomplish this feat. In my 4 years of studying at Hanover College, this was by far the best experience that I have had in a class at Hanover. Despite the chaos and worrying at times, this taught me that you truly can move outside your comfort zone to complete something for the greater good. If it was not for Professor Rodriguez, I would not have even been a Spanish major, I owe all my thanks to her!

Joseph Kerney - Barber/Compadre
Bringing to life Cervantes' play, The Cave of Salamanca has been such a rewarding experience- both educationally and personally. Over the course of a month, the cast became a family, and to make it even more special I got to act alongside my twin brother Marcus. This play has challenged my memorization skills, while also pushing my Spanish to a level that I didn't think was possible. During the month that we worked on this production, I have gained a newfound sense of confidence that can only be gained from putting yourself into a new perspective. Becoming a character is one thing, but fully immersing yourself into a different time period, person and language, truly allows for so much appreciation for Spanish and all of the wonderful things that this language has to offer. This production would not be what it is without the guidance of Professor Rodriguez, so all credit to her for making this experience one that I will never forget.

Ashlee Goodpaster - Cristina
For the culmination of my Spanish experience at Hanover College, I had the opportunity to reprise my role as the Sacristan in the mounting Cervantes' interlude La Cueva de Salamanca. After mounting La Guarda Cuidadosa, I knew that if another opportunity arose to participate in one Cervantes' works, I had to be involved. Playing the Sacristan again greatly helped me to polish my pronunciation in Spanish, especially after traveling abroad to Spain during last year's Mayterm. I am very thankful that Professor Rodriguez-Villar and the Spanish Department at Hanover College facilitated the production of a both educational and fun experience. I would highly recommend this course to anyone that would want to take it.

Andrew Lee - Sexton
---
Throughout my journey learning the Spanish language, I have always appreciated its beauty; it is a masterpiece and work of art. The words and phrases flow together, and one finds they are timeless. Cervantes found ways to run with this and construct a dialogue with double meaning and tons of literary devices to mold the language for his vision. Acting is an incredible way to step outside of your comfort zone and explore the parts of yourself you did not know were there. I gained inner confidence sparked by Leonarda. I thank the Spanish and Communication departments for their hard work and support. I also want to express my gratitude to my amazing castmates, who are incredibly talented and bring out the best in me.

Victoria Lowe - Leonarda
---
The May-term SPA 260 Cervantes on Page and Stage class was a transformative experience. It deepened our appreciation for Miguel de Cervantes' genius and allowed us to explore the world of Spanish theater. Professor Alejandra Rodriguez Villar's expertise and guidance were instrumental in our growth as performers and scholars. I am grateful for the opportunity to have been a part of this class, and I highly recommend it to anyone seeking a profound understanding of Cervantes' plays and the joy of bringing them to life on stage or on screen.

Marcus Goodpaster - Student